as Parents, We Want To Be Realistic With Our Kids And Talk To Them About What Is Happening In The World. But When I Pick Up The Newspaper, I Want To Keep My Child Away From All The Negativity. But Don't You Want Your Child To Be Aware And Form A Habit Of Reading The Papers The Way We Do?
reading Newspapers With Your Young Child Is An Excellent Way To Promote Literacy. As They Get Older, Reading Newspapers On Their Own Is Also Very Beneficial. Newspapers Are Not Only A Source Of Information, But They Also Help Students To Become better Readers, It Gives You Something To Talk Or Plan About Together. Children Will Not Only Work On The Reading Skills But Will Also Give Them More Exposure To Things That Are Happening Around Them, Improves Their Attention Span, Will Work On Their Cognitive Skills, And More.
at Kidsstoppress, We Have Always Spoken About Raising Children That Are resilient, Aware, Responsible, And Avid Readers. So Why Not subscribe To Informational Reads? scroll Down To Know Which Newspaper We Are Suggesting.
what Is The Early Post?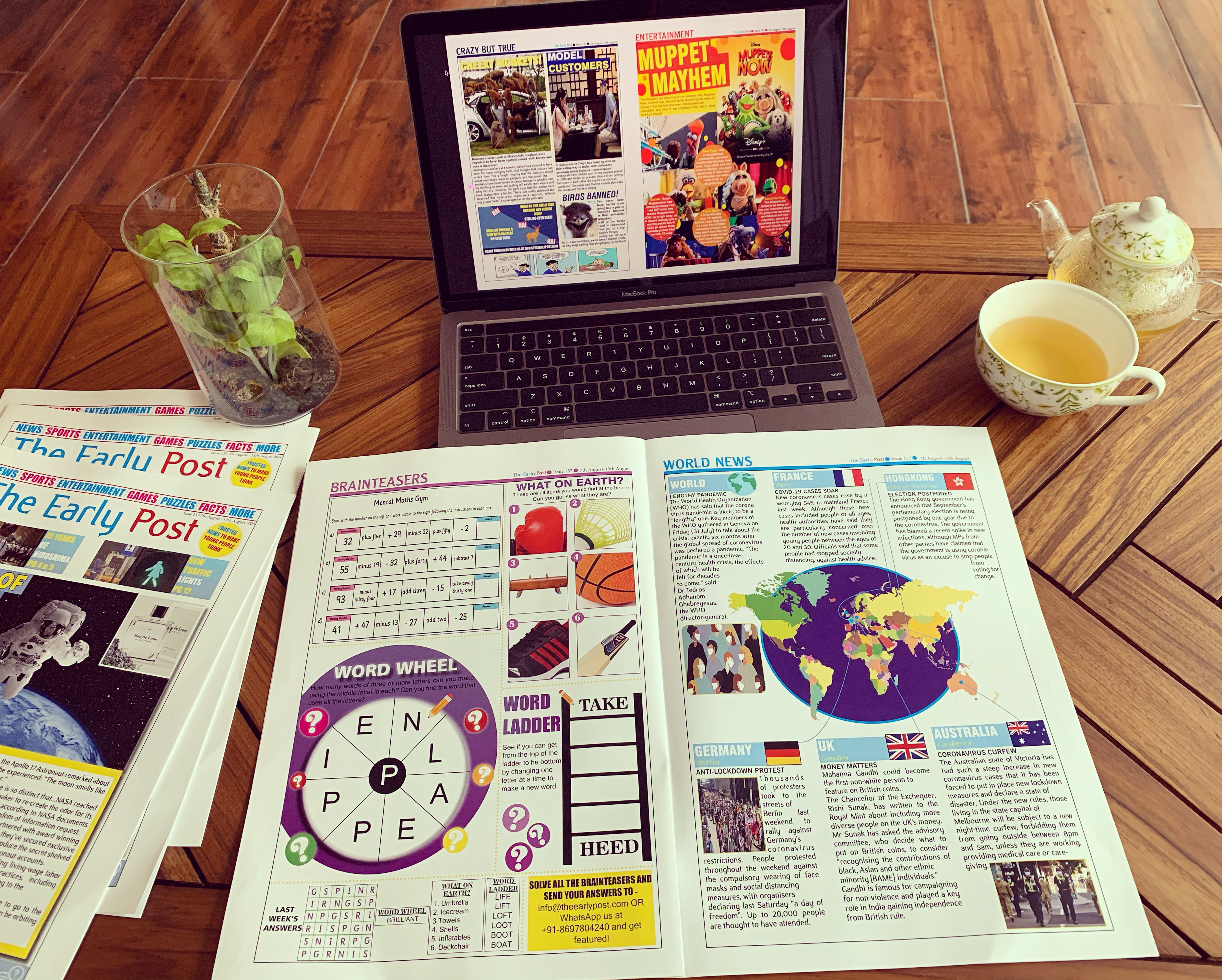 the Early Post Is A Weekly Magazine Aimed At 7 To 14-year-olds. It Is Published In A Full Colour Tabloid Format Every Friday And Aims To Present Current Events And Politics In A Child-friendly Format, Alongside News On Entertainment, Sports, And Games. We Publish Fresh And New Content Every Week To Help The Children Stay Updated In A Fun And Interactive Manner.
the Early Post Magazine Is Very Good. It Has Information On All The Genres. It Highlights Various Recent Issues And It's Preventive Measures. It Is Interesting To Read As It Has Facts And A Fun Time Section Like Puzzles And Brain Teasers. I Got A Lot Of Knowledge On Topics Like Coronavirus, Internet Safety, And About The Various Things That Happening In Different Parts Of The World. The Quiz Is Fun To Solve Too. – Paridhi Falor, Class 7, Vibgyor High
what Does the Early Post Comprise Of?
the Early Post Has Print & Digital Subscription Options. The Print Versions Are Directly Delivered At The Doorstep Of The Individual Every Friday. Whereas, The Digital Version Is Made Available On The Website Itself.
this Newspaper Covers News That Is Relevant To Children. The Articles Are Presented In A Non-threatening Way And They Are Easy To Understand.
the Early Post Makes Sure They Cover News That Is Positive And Makes You Want To Celebrate What Is Good About The World.
we Made Sure That The Newspaper Is Using A Bright And Colourful Format With Fascinating Pictures That Support The Stories. The Articles Are Just The Right Length To Keep Children's Attention. And It Looks Like A Newspaper – This Goes Down Well With Kids!
the Newspaper Has Crazy Fun Facts, Puzzles Like Crosswords, Word Search, And Sudoku, Shows The Weeks' Events With Pictures (in India And The World), And More.
children Can Participate In Their Quizzes And Win A Chance To Be Featured On The Early Post
how Can You Order?
there Are Two Subscription Plans – Half-yearly & Yearly, Available In Both Print & Digital Platforms.
to Subscribe:

click Here
pricing
half Yearly – Rs.1500 [24 Copies]
yearly – Rs.3000 [48 Copies]
digital Subscription
half-yearly – Rs.850 [24 Copies]
yearly – Rs.1600 [48 Copies]
this Post Is Written In Association With The Early Post.