The other day, I was reading an article about why Finland's school kids are considered the happiest. As a parent, it struck a chord with me instantly. Are my kids happy about going to school? Was I happy about leaving for school every morning? I am sure the answer was NO, for most of us. The fear of exams, the fixation with marks and grades and the whole bookish knowledge are all that I remember of my school days now!
But luckily things are better now. Today's parents have more opportunities and choices to choose from. From Montessori to Reggio Emilia to Waldorf, the alternatives to regular curriculum just got a lot more innovative and interesting. And if you are a parent in Mumbai- here is good news. The Nordic Baccalaureate programme, based on the effective Finnish curriculum is now coming to India. One of the popular chain of schools- Podar Jumbo Kids in association with New Nordic School has launched the Podar Jumbo Kids Platinum. Scroll down to read what they do and why it might just be the best choice for your kids.
About Podar Jumbo Kids Platinum:
Podar Jumbo Kids Platinum is providing the Nordic Baccalaureate Early Years program, Exploration, that is based on the highly renowned Finnish curriculum. Along with influences from the Montessori and Reggio Emilia approaches. Combining the best of the Finnish curriculum and adapting it for the Indian culture, is what Raghav Podar, the Chairman of Podar Education aims to achieve. The goal, he says, is to empower our children to explore their creativity and make learning a lot more fun. How cool is that?!
Why go Finnish?
The Finnish curriculum works on making academics and learning more stress-free and joyful. The focus is more on empowering the teachers and changing their role as mentors so they are able to deliver and inspire our children. The Exploration programme not only teaches the kids to think outside the box and discover their true passion, but it also works on teaching mindfulness to the students- that allows them to focus better and be present. Isn't that one of our strong resolutions for 2020?!
Along with teaching kids the essential skills for life with an International curriculum backing, the Exploration programme focuses on personalised education with technology as a key player.
Areas of learning:
There are 5 areas of learning at the Exploration programme in Podar Jumbo Kids Platinum. These include:
Expressing myself: works on emotional development and self-expression
Me & my community: social development
Language, literacy & numeracy
Exploring my environment
My growth & development
How does it benefit your child:
Personalised learning is the need of the hour.
With a student-teacher ratio of 8:1, the programme ensures your child learns and focuses on their strengths so it is not a one-fit-all approach. With an importance on mindfulness and developing your child's core competencies, it helps your child actually like what they learn, and not read them just for the sake of it. No mugging or rote learning, like we did back then!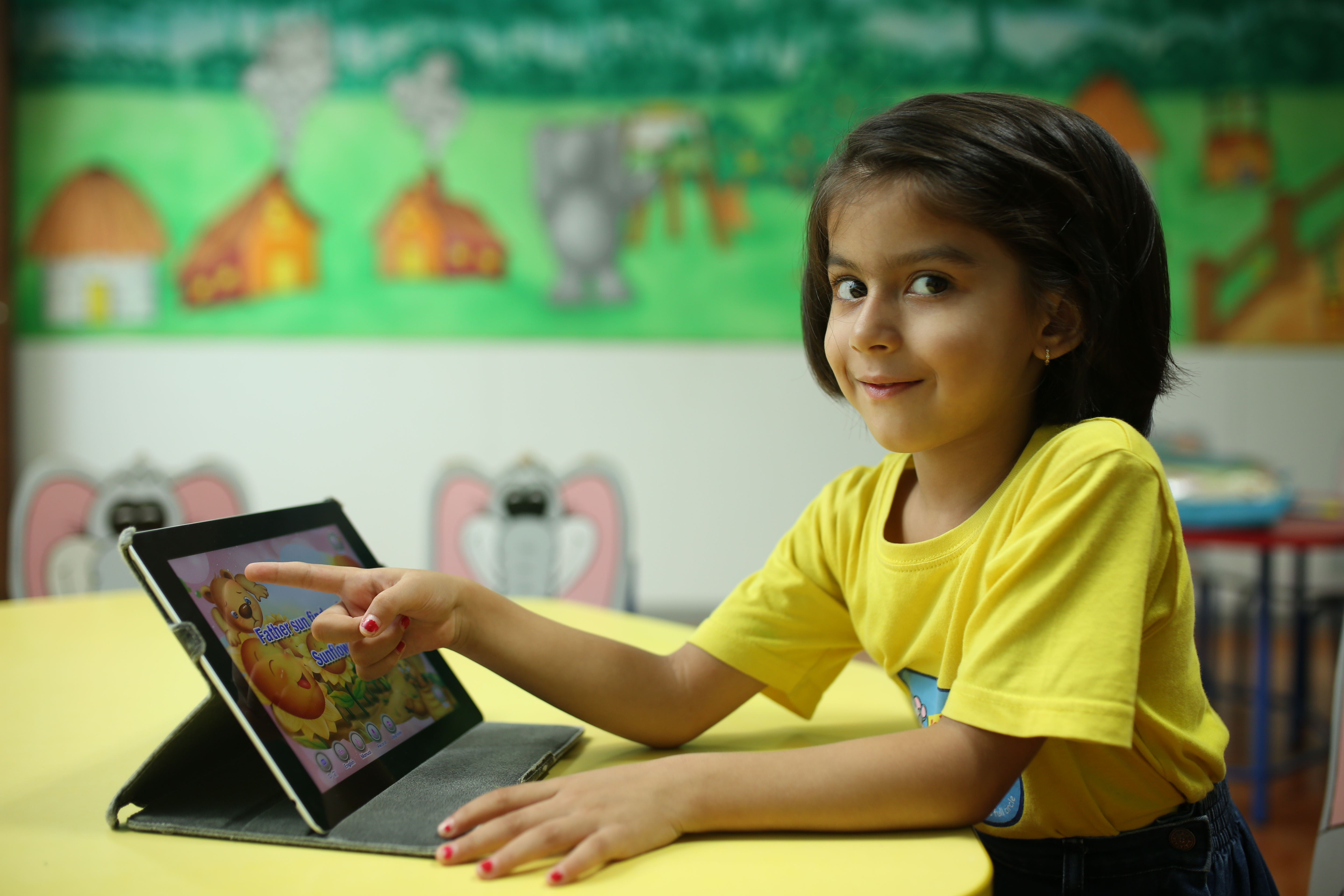 The role of a parent in this programme is also a key factor that helps parents actually know and understand what their child is learning. With real-time updates, education planners and formal orientation and training for parents, the bridge between school and home is slowly narrowing, making it more lively for the kids.
And with Kindiedays- their technology platform, Podar Jumbo Kids Platinum ensures they provide children with a more relevant and personalised learning experience and helps teachers with digitally documented learning for each child so it is easy to monitor their progress and help them improve in areas where they fall behind.
So, we are saying:
It's time for today's kids to say goodbye to sulking school days and to enrich their childhood with innovative and fun learning experiences. Today's new-age schools like Podar Jumbo Kids Platinum help them do just that. Their days now involve combining play and learning within school hours, so you know they have a smile on their faces every morning when off to school. Isn't that the dream for every parent?
If you are wondering if this is the right education you want to provide your kids too, here is good news. Podar Jumbo Kids Platinum is organising a Sneak Peek Week from 20th to 24th of January, 2020 where educational experts from Finland will be coming to town to explain all about the Nordic Baccalaureate and demonstrate in person the Exploration Stage that is followed. Parents can actually get a glimpse of the all-rounded education their kids will experience at Podar along with how it helps them evolve into better individuals. Intrigued?
Register at the below number right away. Remember the event is open for limited seats- and you don;t want to be the parent who misses out on this wonderful opportunity.
Contact:
Admissions open now at Podar Jumbo Kids Platinum.
Website Instagram Facebook +917698180000