There can never seem to be enough toys for your children, right? You might have an entire collection- some new, some old, some unopened, some damaged- but you will be keen to add more to your child's collection as toys, especially early age ones are so instrumental for development. Also if toys can give you 5 minutes of peace, why not!
With so many latest international brands stepping in and innovations ruling the roost- there can't be a better time for toys shopping! In addition to the big chains like Hamleys and Shoppers Stop, that are famous all over the country, there are many areas where you can hunt for exclusive toys for your little kids in Delhi-NCR. KSP brings you the curated list of the best toy stores to hunt for near your neighbourhood. Happy Shopping!
1. Dezine KidsÂ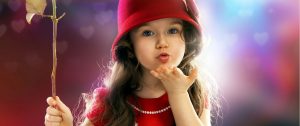 Where:Â Greater Kailash, Delhi. DLF Phase I, Gurugram
What's Special:Â Houses a world of Indian and International brands of toys, giving you amazing options to choose from.Â
Contact:Â 01139595224
Website: Dezine kids
2. Child Junction
Where:Â F15, Sector 18, Noida, Uttar Pradesh-201301
What's Special:Â Nestled in the busy streets of Noida, Child Junction is the answer to all things, kids. With separate sections for battery operated toys, Robotic toys and Lego blocks, Child Junction has them all.
Contact: 0120 4311335/4311336
Website: Child Junction
You may also like: Best places to get stationery supplies in Delhi
3. 101 Brats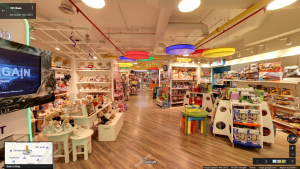 Image source: kyabaat.com
Where: DLF Ambience Mall (Vasant Kunj)
What's Special:Â Everything you need to entertain your little brats, you can find here! Toys, accessories, puzzles, party supplies- everything under one roof.
Contact:Â 01140870502
4. Allied Stores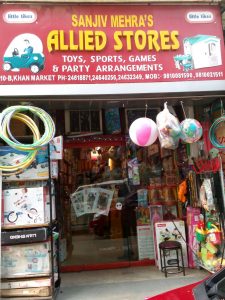 Image source:Â www.delhibiz.co.in
Where: Khan Market
What's Special:Â One of the pioneers in the field, Allied Stores houses an entire range of toys starting from branded ones to wooden stores. They also arrange play slides for party occasions.
Contact:Â 9810081590, 9810021511
E-mail: [email protected]
You may also like: Toy Libraries in Delhi
5. Kiddiland Toys
Where:Â Lajpat Nagar
What's Special:Â Found in the bustling streets of Lajpat Nagar, you shouldn't miss this toy haven for kids. Reasonably priced toys catering to children of all ages with a wide variety is all you will find here.
Contact: 01126212956
E-mail: [email protected]
6. RCS Toys
Image source: lbb.in
Where:Â Connaught Place
What's Special:Â Known as one of the oldest toy shops in Delhi, this store currently run by the third generation, houses some of the best toys in the market. From simple toddler stuff to toy aeroplanes to even Playstations, you can find everything here.
Contact: 01123416276
7. Simba Toys
Where:Â South Extension-I
What's Special:Â The German based brand is a famous name in the world of toys and with its huge presence in India recently, they look to capture the toys market with its exclusive collection of international brands.
Contact: 01141646047
Website: Simba toys
You may also like: Best places to hunt for school supplies in Delhi
8. Leo Toys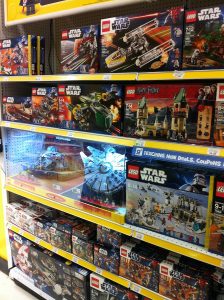 Image source: whatsuplife.in
Where:Â Gurugram
What's Special:Â One of the popular toy stores in Gurugram, Leo Stores specializes in catering to kids of all ages and different tastes. From soft toys, infant toys to sports collection, Leo Toys has them all.
Contact: 0124 4009051
You may also like: Fun things to do with kids in Delhi
Image source: iran-daily.com
Don't forget to follow us on Facebook, Twitter, Pinterest & Instagram or subscribe to our YoutubeChannel for more information.