On 2nd May, the royal duchess Kate Middleton gave birth to a very pretty baby girl. The baby weighed 8 pounds 3 ounces and in mere hours of being born was already the most photographed baby.
After 10 hours of being at the hospital, proud parents Kate Middleton & Prince William appeared at Lindo Wing of St. Mary's Hospital. The recently delivered Mom looked more than glamorous as she made her first appearance. Here is a guide to get the Kate Middleton post delivery look.

With the arrival of the younger Royal baby, Twitter has seen an explosion of opinions, memes and congratulatory messages. Here are a few tweets that tickled our funny bone –
Reckon the new Princess will wear this? Otherwise Elsa will remain fav #royalbaby pic.twitter.com/cwxacEv66y

— ChannelVHits (@ChannelVHits) May 2, 2015
And this from British Airways #RoyalBaby (via @MaxFosterCNN) pic.twitter.com/OiuOdxDGeJ

— Simon Cullen (@Simon_Cullen) May 2, 2015
kate middleton just gave birth and she still looks better than i do on a good day

— em. (@emcalder_) May 2, 2015
Kate Middleton's baby girl is already more successful and famous than you could ever possibly be. #RoyalBaby

— Professor Snape (@_Snape_) May 2, 2015
Dear William & Kate: If William is 100% royal and Princess Kate is 0% royal, does that make your daughter a half-blood princess? #RoyalBaby

— Professor Snape (@_Snape_) May 2, 2015
Good thing is Will & Kate already have a pram & a cot & stuff from George so they'll save a little money there. #RoyalBaby

— rob delaney (@robdelaney) May 2, 2015
"Yes Your Majesty, I am serious. I want to hold it up outside the hospital like Simba from the Lion King" #RoyalBaby pic.twitter.com/8Tw447NRsl

— David Cameron (@DavidChameron) May 2, 2015
If the #RoyalBaby isn't revealed at Buckingham Palace like this I will be very disappointed. pic.twitter.com/chdxxSv2VB

— Disney Reactions (@DisneyReactss) May 2, 2015
Prince William's heir has already fallen out

— Darren Walsh (@DarrenWalshPuns) May 2, 2015
Some facts about the new member of the royal house:
1. The baby girl is now 4th in line to the throne, pushing Uncle Harry to number 5.
2. The birth will be celebrated with a 41-gun salute in Hyde Park and a 62-gun salute at the Tower of London.
3. Kate and William have it all well planned. They welcomed Prince George just over two years after their April 29, 2011,wedding and their second baby almost four years to the day later.
4. Prince George, visited his baby sister 8 hours after she was born.
5. The new member appeared to have dark brown hair  like her mother and soft features like her big brother.
Here is the first look of the royal princess and the very pretty Kate Middleton.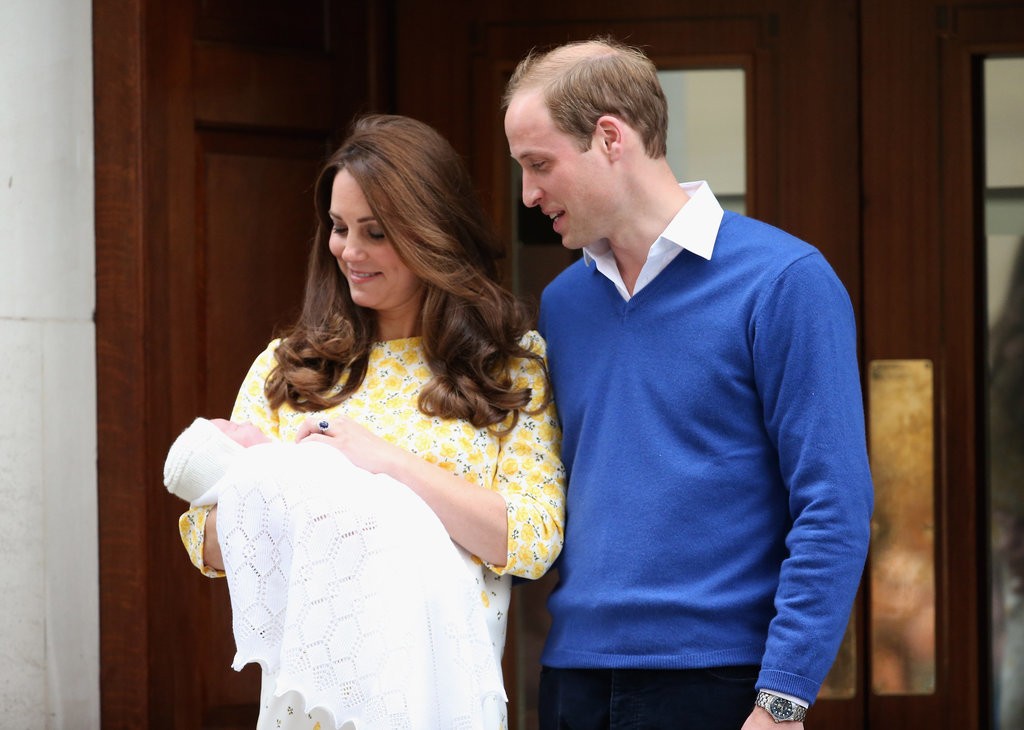 Image Source: Popsugar, Twitter