Get Your Family To Enjoy the Meals You Cook For Them – Sign up to get access to a FREE Summer Special Meal Plan, a Seasonal Grocery List & a Seasonal Recipe
For most of us, Independence begins with watching the parade and all the tableaus that follow.  With so many changes taking place in the country, our independence and freedom have taken on a much deeper meaning. (You can hear our podcast on Article 370 here). 
Also if your kids are curious about the colour of the flag and what they mean then you should watch this video.
However, no matter where we are or what we do, food is a unifying factor. This Republic Day get creative and give your family a surprise by trying out one of these cool recipes and bringing a smile to their faces. These recipes are yummy and adding colour will make them a lot more interesting and fun for the family.
Also, are your kids complaining about the same dish being made again and again?
is what you need
For just Rs 999 you get 52 meal plans in your inbox – one new meal plan every week for a FULL YEAR, along with curated exclusive recipes, tried & tested tips and hacks, a seasonal grocery list and more! We also have 11 FREE recipe guides if you sign up with us today.
Let us handle all the research, menu planning, organization, and grocery list-making for you and simplify life for you through the week.
Happy Independence Day everyone.
Tiranga Poori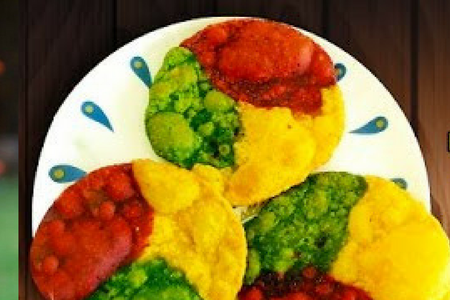 Ingredients:
3 Cups Wheat Flour
1/4 Cup Besan / Gram Flour
1/2 Bunch Palak/Spinach
1/4 Cup Beetroot, Grated
1/2 Tsp. Turmeric
Salt To Taste
2 Green Chilli
1/2 Tsp Red Chilli Powder
Method:
Put the spinach and green chillis (optional) in a mixie and puree.
Grind beetroot with little water.
For Green colour: To 1 cup wheat flour add pureed spinach and salt and knead into a soft dough.
For Red colour: To 1 cup flour add pureed beetroot, red chilli powder and salt. Knead into a soft dough.
For Yellow colour: Take besan and 1 cup wheat flour– add turmeric, salt and knead into a soft dough.
Cover and keep all doughs for 30 min. Now roll out 1 inch thick rolls of each of colour.
Make a braid and lightly roll them so the dough blends into each other.
Cut into smaller portions to make dough balls.
Roll out puris and deep fry
Tri-Colour Pasta
Red Pepper Pesto
Ingredients:
2 Red Peppers
2 Tomatoes
2 Tsp Pine Nuts
¼ Cup Walnuts
½ Tsp Salt/Pepper
1/8 Cup Parmesan Cheese Grated
2 Cloves Of Garlic
Extra Virgin Olive Oil
Method
Preheat the oven to 170 C.
Oven roast the peppers, tomatoes, garlic for 15 mins.
Cool and remove the skin and seeds of peppers and tomato.
For a grainy texture grind them in a mortar and pestle. For a smoother texture- put it in a blender.
Stir in the grated Parmesan with a spoon and combine well.
Basil Pesto Sauce
Ingredients:
2-1/2 Cups Fresh Basil Leave
1/2 Cup Grated Parmesan Cheese
1/3 Cup Pine Nuts
1/4 Tsp Each Salt & Pepper
1/2 Cup Extra-Virgin Olive Oil
2 Cloves Garlic
Method:
In a food processor, together with basil, Parmesan cheese, pine nuts, garlic, salt and pepper and chop.
With the motor running, add 1/3 cup of the oil in a thin steady stream.
Continue to process till you have a thick sauce.
Cheese Sauce
Ingredients:
1 Onion Chopped
1 Clove Garlic Crushed
25g Butter
25g Flour
1/2 Pint of Milk
Handful Of Grated Cheese – cheddar cheese and cream cheese
Method:
Melt the butter and add the flour and cook for 2 mins.
Gradually stir in the milk, whisking continuously, to make sure there are no lumps.
Bring the sauce to the boil, and then simmer.
Add the cheese and allow it to melt.
In a separate pan sauté the onion and garlic and add to the sauce.
Tri-colour Pasta:
Ingredients:
1 packet Penne Pasta
½ cup Cream for each colour
Method
Cook the pasta in boiling water with some salt. Drain and set aside
Divide the pasta into 3 equal bowls.
Make the above sauces in advance.
Use three pans to heat the sauce with few drops of olive oil.
Add ½ cup cream to all these sauces and toss the penne in the coloured sauces
Serve and enjoy the tricolour pasta.
Tri-Coloured Idlis
Ingredients
3 Cups Rava/Sooji (Semolina)
5 Cups Curd Or Butter Milk
Salt To Taste
1 Tbsp Eno Salt
½ Fresh Coriander (Dhania) & Mint (Pudina) Chopped
2 Green Chillies (Optional)
4 Tomatoes
2 Tbsp Urad Dal
1 Red Chilli
2 Tbsp Oil
Method
Mix Rava, curd, Eno and salt in a large bowl and allow it to rest for 4-5 hrs. You can also make this using regular idli batter.
Green paste: Grind the coriander and mint leaves together with some salt.
Red Paste: Blend chopped tomatoes, urad dal, red chilli and salt together. Add some oil and puree well. You can add garlic if you want.
Now divide the rava batter into three parts
Mix red tomato paste to the one bowl
Green to another bowl
Leave one as white.
Grease your idli maker with oil and fill the three colour batter in that one by one.
Steam for about 10 minutes.
Serve idlis with sambhar and coconut chutney.
Notes:
You can use spinach as well for green colour to make it healthy.
And for red colour carrots can be used.
Tiranga Lassi
Ingredients:

2 Tbsp Kesar syrup (for orange colour)
3 cups curd ( for white colour)
2 Tbsp Khus syrup (for green colour)
1 Tbsp Cardamom powder
2 Tbsp Sugar
Method:

Whisk the curd till smooth and then add sugar and cardamom powder
Blend the Kesar syrup with curd to get the saffron colour of the flag.
Separately, blend Khus syrup and curd to get the green shade.
For the white colour keep the curd as is; don't mix anything to it.
In a glass, pour the Khus lassi first followed by plain white lassi and pour the Kesar lassi towards the end to get the tricoloured version of your favourite drink!
Garnish with pistachio and serve cool.