Planning and packing the tiffin and lunch boxes for my first grader is something I enjoy. I honestly don't look forward to the early morning waking up but a little bit of prior planning and prep helps me spend not more than 45 minutes in the mornings packing both the boxes.
For the tiffin box, I plan 3 elements – 2 of which would be ready-to-eat kinds like nuts, fruits, chips, and salads and only 1 element would need a little prep – Pancakes, Makhana, Dosas, Idli etc!
For the lunch box, I try to keep it simple, wholesome and nutritious. Parathas and Wraps, simple mixed rice, sandwiches etc work well for this.
By the way, the KSP Meal Plans are a big help relief on days when you don't know what to put together. They cover everything from breakfast, school snacks to lunch, evening snacks and dinner. Oh, yes! also bus snacks. The tips and kitchen hacks are tried and tested – so helpful they are!!!
Do you want to make life easer too?
I'm sharing 3 recipes that frequent our boxes.
Tofu Tikka Spinach Chapati Wrap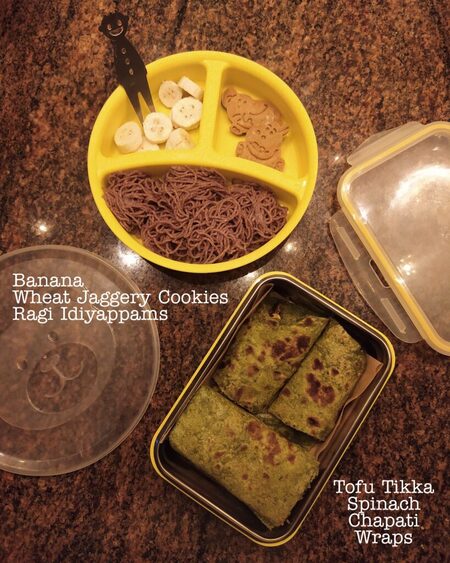 Ingredients
100 g Tofu cut into small rectangles
2 Tbsp Thick Curd
1 Tbsp Gram Flour / Besan
1/4 Tsp Jeera Powder
Ginger Garlic Paste – a bit
Chilli powder and salt – to taste
1/2 Tsp Kasuri Methi
Mayonnaise
Chapatis
Method
Marinate the tofu in besan flour, jeera powder, garam masala, chilli powder, crushed kasuri methi, ginger garlic paste, salt and thick curd.
Pan roast the tofu lightly.
Place these along with mayo in chapatis and roll it up! I have used spinach chapatis for this in the tiffin box.
Can be stored in the fridge for a few days.
Rava Appe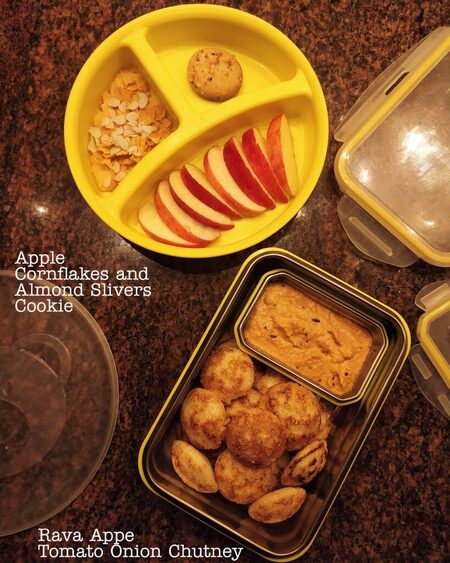 Ingredients:
1 Cup Urad Dal
4 Cups Sooji Rava
Salt
Water
Method:
Soak urad dal for a couple of hours.
Then grind it and mix sooji rava, water, and salt to taste.
This batter needs no fermentation and can be used immediately.
Pour batter into a greased appe pan and allow to brown well. Flip the appe over and cook the other side.
Serve with tomato chutney
Tomato Onion Chutney 
Ingredients
1 Tomato chopped
1 Onion chopped
2 Garlic pods
3-4 Dry Red Chillies
1 Tsp Urad Dal
Curry Leaves – a few
2 Tbsp Coconut grated
Oil
Salt
For tadka – Ghee, mustard, jeera and curry leaves
Method 
Heat oil in a pan and roast urad dal, curry leaves, red chillies, onion, tomato and garlic.
Saute for 2 minutes until the raw smell fades away.
Add coconut and salt to taste. Cook for another minute.
Allow to completely cool and then grind to a paste.
Prepare a tadka of ghee, mustard, jeera, and curry leaves and pour it on the paste.
 Veggie Sooji Toast 
Ingredients
1 Cup Veggies of your choice (I usually use onions, tomato, baby corn, capsicum, carrots) -finely chopped
1 Green Chilli finely chopped (optional)
 Oil
1 Cup Curd
Italian Seasoning – to taste
Pepper & Salt – to taste
1 Cup Sooji Rava
Method:
Take the chopped veggies in a bowl and mix in sooji rava, curd, pepper powder, salt and Italian seasoning.
Mix well to make a thick batter.
Spread this on one side of a bread slice.
Place the slice on a hot pan and roast the underside first and then flip to roast both sides with ghee or oil.
Cut into strips and serve with tomato ketchup.