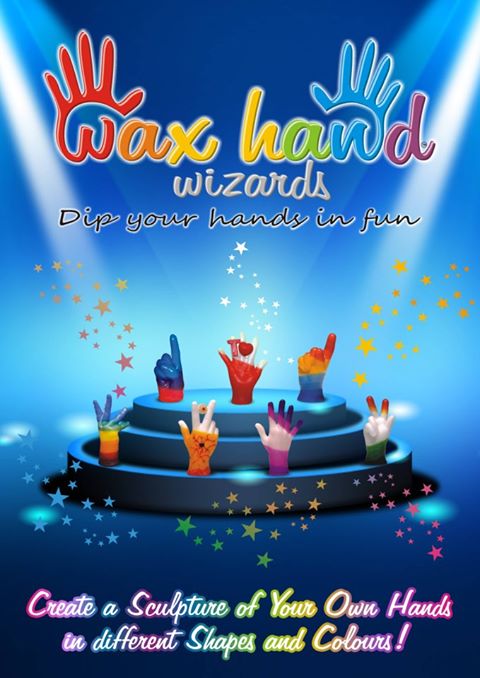 All moms want to try something new unique and quirky for their little ones birthdays. But in Mumbai it seems like we are running out of ideas. Well then here's an idea you should try the next time!
So let's introduce to you all to the newest attraction in town…WAX HANDSGet Waxed!
WAX HANDS is a Fun Interactive experience that we are bringing to India for the first time! WAX HANDS are Wax Sculptures of your own hands created in different Shapes & Colours. The beauty of the product is that Customers are themselves involved in creating sculptures of their hands & they act as everlasting keepsakes. WAX HANDS is a popular activity at all Madame Tussaud's Museums around the world, and is now in India!
The 5-minute Fun process involves holding your hands in a gesture & dipping them in our specially formulated warm wax to create a beautiful sculpture that is then decorated with colours of your choice. Each sculpture is customized as per your gesture and colour choice & is one of its kind! It is an ideal product for Parties, Corporate Events, Festivals and Shopping Malls. It's Cool, Exciting & great for all ages.
Fun in 3 Easy Steps!
Decide the hand sign or gesture you want for the WAX Hand. Some favorites are the OK sign, Peace sign, Number 1, Thumbs Up, ILU etc.
Then dip your hand in chilled water and warm wax. Repeat the process a few more dips and make the mold. Choose your colours.
Carefully the mould is removed from your hand, colour is added , fixed to on a base…and Voila! You get a WAX HAND!!!
Pricing
30 Hands & above - Rs. 500/Hand
40 Hands & above - Rs. 450/Hand
50 Hands & above - Rs. 420/Hand
60 Hands & above - Rs. 400/Hand
Experience it for yourself!
If you are looking to have a great time at your next party just call the 'Wax Hand Wizards' on 93222 46457 / 98210 30763 and be assured of a Great Time or follow them on Facebook here and experience the magic yourself!
Dont forget to mention Kidsstoppress when you call and avail of a Special KSP discount and follow us on Facebook and Twitter!