After a tiring day at work and finishing all the household chores, we can't wait for the moment our head touches the pillow. Can you imagine having a good night's sleep without one? Absolutely not! Even if we do, we indeed won't have a good morning… And so we wonder if we feel so uncomfortable, how uneasy our little one must feel sleeping every time without one. Does your maternal instinct guide you to slip a soft pillow so your baby sleeps better? Wait!
But what if I tell you your little bundle of joy is better off without one? A pillow is soft and cosy and doesn't seem to pose any danger. However, the very softness of the pillow is known to cause choking or suffocation hazards in some cases. And might possibly increase SIDS (Sudden Infant Death Syndrome). Read on to know when you should start using a pillow and what pillow should you use for your baby.
When Can Baby Sleep With A Pillow?
It's better to wait until your baby is well into toddlerhood. But according to research by webMD, you can start using a pillow once your baby is 2 years old. However, if your baby shows no interest in using one, don't. There is no need to push it.
A baby should sleep on a flat and firm surface away from any soft bedding. Blankets, soft toys or even pillows might lead to suffocation hazards. If at all, you decide to use a pillow after they turn 2. Be sure to be there when they use one and not leave them alone with it.
Pillows should be small and firm. Avoid using adult pillows or pick one out from your collection. Also, use cotton covers with light colours as they are soft and light colours allow you to know when you need to wash them. Restrain from purchasing fancy pillows that are fragrant or have any work on them. They might cause discomfort to your smallie.
Why Isn't It Safe For Babies To Use Pillows?
Babies don't have complete control over the head and neck muscles. If in any case, they go face flat on the pillow, they don't have the strength to move from that position. This could be very dangerous and could increase the chances of SIDS.
Also, pillows usually carry a lot of allergens like dust, dust mites, sweat, etc. Using a pillow might trigger many allergic reactions in your little one. Snuggling against the pillow might also cause your baby to overheat. Therefore, if using one, be sure to use cotton covers that are simple with light colours and to clean and wash them regularly.
What Kind Of Pillow Should I Give My Toddler?
Firm and small like the soft and squishy one you own. If your toddler still sleeps in a crib, get a small pillow that will fit there. Also, get them a pillow when they show interest in one. Once they are old enough, you can rest assured that this new bed accessory will give them comfort and not danger.
In Bengal, they use mustard or rai pillows for newborns, A baby's head is very soft and it is said that mustard seed pillows help shape the baby's head from the back. The tiny seeds inside the pillow adjust themselves to the baby's head movement and provide cushioning.
The Different Types Of Baby Pillows:
Now, what pillows are these?
Did you know? You get pillows that are specially designed for when you nurse your baby, a baby lounger pillow, a baby positioner pillow and a pregnancy pillow for all pregnant moms to feel comfortable while sleeping.
Here are the different types of pillows:
Nursing Pillow: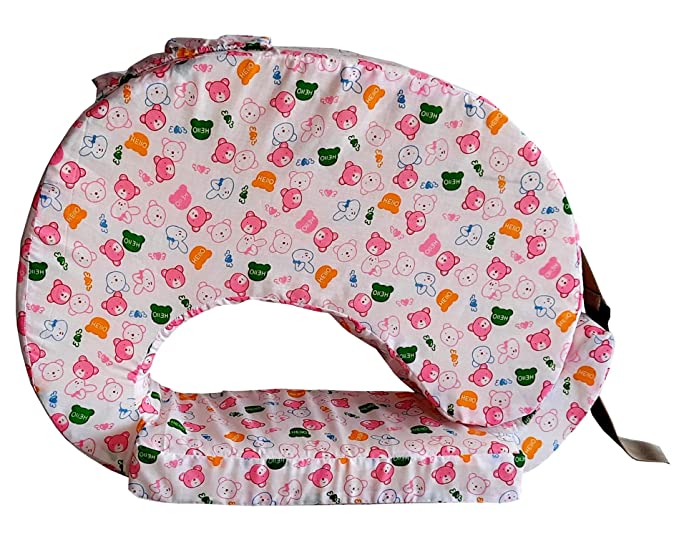 Anti-Flat Head Pillow:
Mustard Seed Pillow
Baby Lounger:
Baby Positioner Pillow:
Pregnancy Pillow:
Share this with new moms who might have the same question.