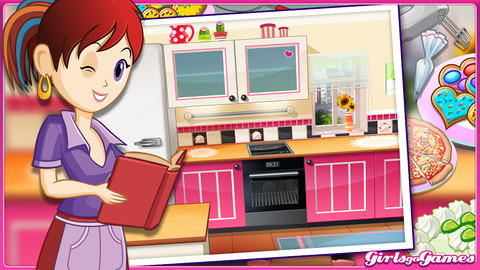 This is one of my most favourite apps I have downloaded for the daughter in recent times. The daughter is extremely fond of cooking and food( blessed!!!) so downloading this was very natural. The app has a few recipes which are available in the demo version and for all recipes you need to buy it. Priced at Rs 110 if your child loves food and baking then this one is surely worth it.
Welcome to Sara's kitchen:Â A playful foodie paradise for kids where they learn to bake and cook with different ingredients and tools and master tasty recipes from around the world! The app takes children through first the selection of ingredients, tools to whip it up and then finally rewards them with gold stars for instruction following. You will see your kids whirl, whip and stir as they cook some delicious recipes. The app also speaks to the children telling them what they are adding which makes kids register the ingredients.
STEP-BY-STEP RECIPES
Follow Sara's instructions and handy hints around the kitchen
Chop, mix, boil, fry, prep, bake, and decorate along the way
Work your way up to a 3-star recipe rating
Take the fun offline—use the recipes in your real-life kitchen!
A KITCHEN JUST FOR KIDS
Hours of parent-approved entertainment
Child-friendly interface designed to build motor coordination, imagination, and curiosity
Sara speaks your language
Easy instructions and methods makes the app more fun for kids
AWESOME FEATURES
17 of Sara's most popular recipes
183 different ingredients to play with
A fun family app that everyone can play
WE REALLY LIKED:
Make skids enjoy cooking and thereby loving food
The idea that kids can whip up something fabulous on the app and then put on their real apron and getting cooking in their kitchen
It's a great way to entertain your kid while you get things done
A great weekend or a and activity to keep them while you cook
Baking some of Sara's desserts for parties, and family get-togethers seems like a natural activity for parents and kids to do together, and share
 The Red Velvet Cake and the  California Roll Sushi recipies
This app is available in a free and premium paid version on itunes. Download here . Trust me it wont be long till you download the full version.
Check out the youtube video

For more cool and awesome apps and fun activities check out Kidsstoppress and our Facebook, Twitter and Pinterest Pages.