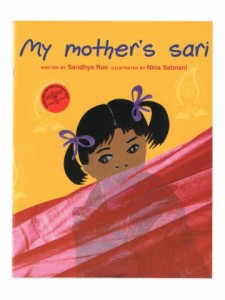 This classic book by Tulika Publishers is written by Sandhya Rao and and illustrated by Nina Sabnani. Read this book to know how a childs imagination can turn 6 yards of cloth into such fun things to play. The book immediately. It not only provides a creative boost to a childs imagination but also exposes them to illustrations and colours that are so Indian. If you thought this book is only for girls you are mistaken. Boys love it just as much.
The tragedy though is not a lot of kids see their moms wear sarees these days and thats why they may not relate to it. However if they see grandparents wear it or the mom wear it on special occassions then it connects with them immediately.
A child's imagination transforms a sari into a train, a river, a swing… and many things magical. The unconventional pictures combine photographs and acrylics in dramatic, original ways. 6 yards of colour is so —elegant yet so graceful. The mystery of the sari can be magic for a child, winding and weaving, just like the connection between a child and its mother. The style, the motifs, the interplay of children, colors, and textures, create the rich, mood-filled, and dreamy world of My Mother's Sari. A book to capture the imagination of children everywhere!
With very little text it can be  a great read for beginners and what kids love the most is the step by step guide on how to wear the sari.  I love the way it lends itself as a rope, a cradle, a river and blankie. There is truly something about the moms sari that makes it so comfortable. That smell from my ma's sari gets me all nostalgic and gives me the best sleep ever. Feels like she is with me. Playing with my mothers sari just remind some of all the role plays I did as a child and how generations after generations kids still enjoy role play with a sari.
We absolutely love this book and its a must have in any childs library. You can buy this book at any leading bookstore or online at Amazon, Flipkart or Hoopos.com