By now everyone from you to Virat Kohli has seen the video of a young girl being scolded and slapped while she learns her numbers. I was sent it too on various Whatsapp groups, was tagged on Facebook groups and by mid afternoon on Saturday, I had had enough. Here is a question. How many of you were actually able to watch the entire video?
I couldn't. But I still felt bad as a parent. Even more so because I am on the cusp of getting my second child into a good school while my older one takes everything he has learned in preschool to his "big boy school". I have on many days encouraged my kids to play games where they learn something. I love flashcards and have used it to teach my kids. I have googled what a three-year-old should know and how high a five-year-old should be able to count. Yes, it might shock you but I have had conversations with my husband about whether we are doing everything we can to give our kids the proper head start.
Over-competitive education system
And somewhere in all that is stated above, lies the problem. Why do we parents do what we do? Maybe it is because of the tremendous pressure to get our kids into a good school. I mean, why is B School not as good as A school? It has the same curriculum, same board, then why the preference? Or should we blame the dreaded interviews? The ones where not only are the parents interviewed, but kids are too! So we prep our kids to make sure they pass the interview. Think about it. How many animal sounds and letters of the alphabet should a child know before he goes to preschool?
You may also like:Â Doon Valley Principal on why our education system needs a change
These figures are scary but all too familiar.
According to ASSOCHAM,Â

87% of Primary school children attend tuitions for various subjects

95% of Secondary school children attend tuitions or coaching classesÂ
Online disease called Sharenting
Most of our readers who commented when Kidsstoppress posted the video, wondered what sadistic pleasure the person filming the video must have got from actually filming and posting the video? So it isn't enough to only blame the education system but also this crazy trend called sharenting.
Was it because she knew it would go viral? Was it to gain overnight popularity or was it to ensure she got a million hits on her social media account?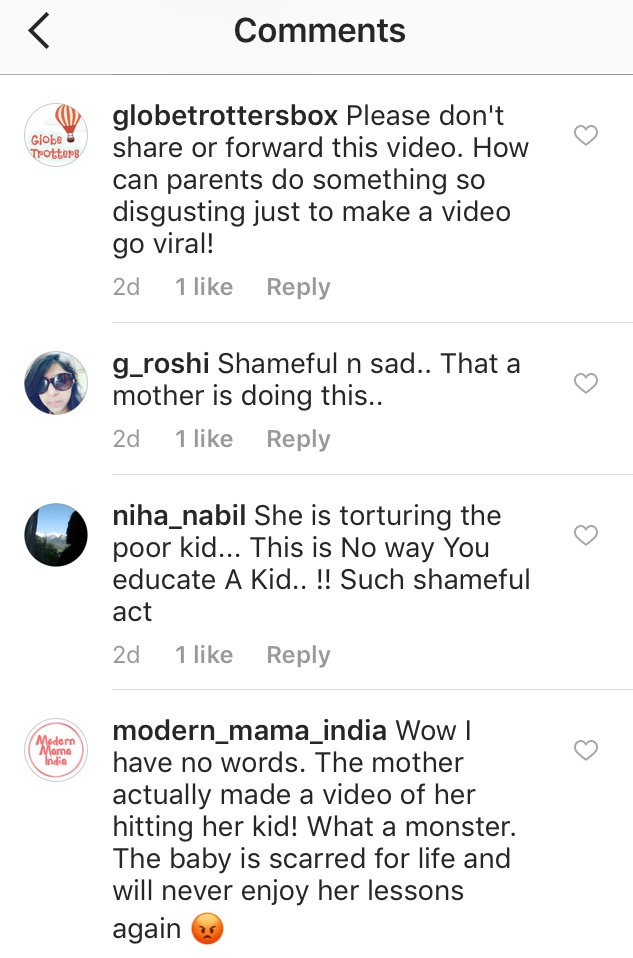 Studies have shown that almost 85% of moms share while only 70% of dads post on social media about their kids.Â
Let's leave aside statistics for a moment. Remember that the internet never forgets. Years down the line, when your child will discover the videos, pictures, and comments about them on the internet do you for a second think you will be able to justify it?
You may also like: Why you might be guilty of sharenting too!
So while Virat Kohli and Shikhar Dhawan and Dia Mirza might condemn the video and while a sizeable section of the population may laugh (?) at the video reminiscing about their childhood, and the other half of the population may look at this as a sharenting incident gone horribly wrong, for me this was a personal wake up alarm to think long and hard about the lengths we are willing to go to just to raise our children in this over competitive world.
Don't forget to follow us on Facebook, Twitter, Pinterest, Soundcloud & Instagram or subscribe to our YoutubeChannel for more information.