Here's what happy parents do to raise happy kids! Sign up to find out!
Why should adults have all the fun? Kids salons are fast becoming a trend all over the city and they cater to age groups starting right from infants to pre-teens! Gone are the days when going to the salon for a haircut only meant wailing! Salons today, offer a more distracted and child-friendly environment, that makes the whole thing more peaceful and enjoyable. We at KSP, bring you a list of the best salons for kids across Mumbai.
1.Truefitt & Hill
Image Source: Truefitt & Hill
This salon is a must-visit when your boy (s) have had a tiring week and they need some relaxation to calm their nerves. Head to your nearest Truefitt & Hill salon and let your little boy be indulged and treated like royalty. A royal haircut for kids here starts with a hair wash, followed by a haircut that best suits your little prince and ends with a sleep-inducing head message by the master barbers.
Location: Lokhandwala, Colaba, Khar, Palladium, Peddar Road (closed), Powai, Juhu, Prabhadevi, Hughes Road
Website: Truefitt & Hill
2. Starfish Kids Salon N Spa
Image Source: http://www.starfishkidssalons.com/salon-gallery.html
For kids who tend to throw tantrums for a haircut, Starfish Kids Salon has ensured a child-friendly environment with elements like a sleeping head wash station, an engagement corner with toys and books and entertainment for the children while they are enjoying the services. What's better?! They also organise occasional spa parties for kids! Your kids will not say no to a fun outing with friends to this salon.
Location: Bandra (closed), Powai (closed), Khar West
Website: Starfish Kids Salon
3. Kidzappy (closed)
Image Source: https://www.facebook.com/Kidzappy?fref=ts
Happy Kids goes all guns blazing to keep their customers- young and old happy. While parents are busy getting pampered, the salon offers babysitting services. So that's a tension off your mind! Also, they also have a play area with books, toys and iPads to keep the little kids busy.
Location: Andheri (W)
Facebook: Kidzappy
4. Junior Cuts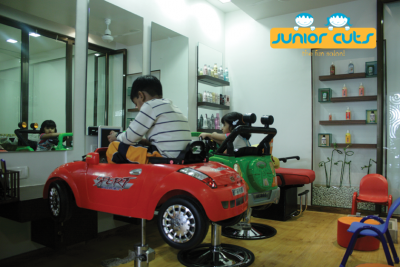 Image Source: https://www.facebook.com/pages/Junior-Cuts-Matunga/
Junior Cuts is a name to reckon with in the kids' salon space. In addition to a haircut, kids can also avail nail art, makeovers, hair tattoos, shining Mohawks and a lot more. They also have a play area and reading corner for kids who need to wait for their parents. Find out about their exciting year long offers for their little customers!
Facebook: Junior Cuts, Mumbai
5. Bejolie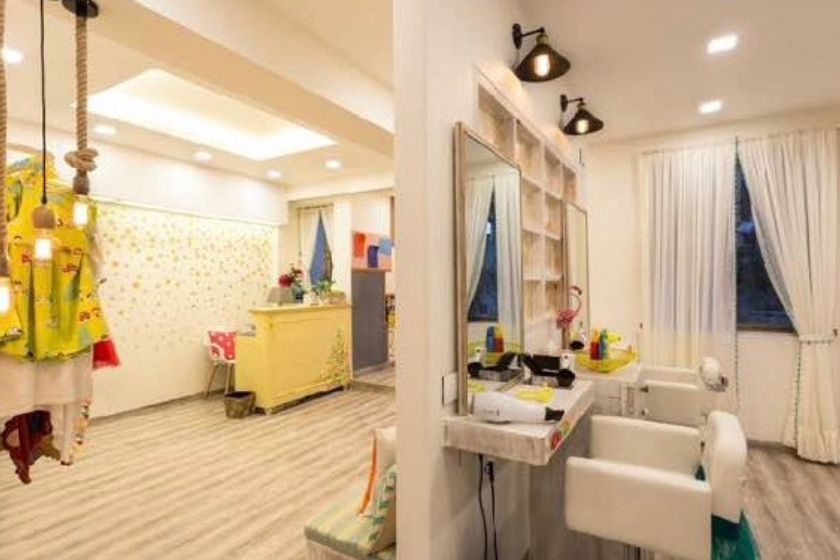 With eye-catching interiors and welcoming staff, Bejolie is the perfect place to take your little one for a quick haircut. With car-shaped seats and engaging toys, your child will enjoy, feel comfortable and you can rest assured that this will be a memorable experience!
Location: Vile Parle West
Website: Bejolie
6. Little Heads Kids Salon
Image source: https://www.instagram.com/littleheadskidsofficial/?hl=en
This salon is full of lovely ambiance and good vibes. Apart from just providing haircut and hair styling services, you can get your child fantastic foot massages, nail arts, mani-pedis and so much more. You can be certain that your little one will never be bored as the play area they have is mesmerizing!
Location: Bandra West
Instagram: Little Heads Kids Salon
7. Babysutra
Image source: https://yourstory.com/brands/baby-sutra
Want a premium salon and spa experience for your kid? This place offers just that along with fabulous services like hydrotherapy, infant massages, and spa parties. With utmost love and care, the staff never fails to bring a smile to the child's face and every task is done with perfection.
Location: Juhu
Website: Babysutra