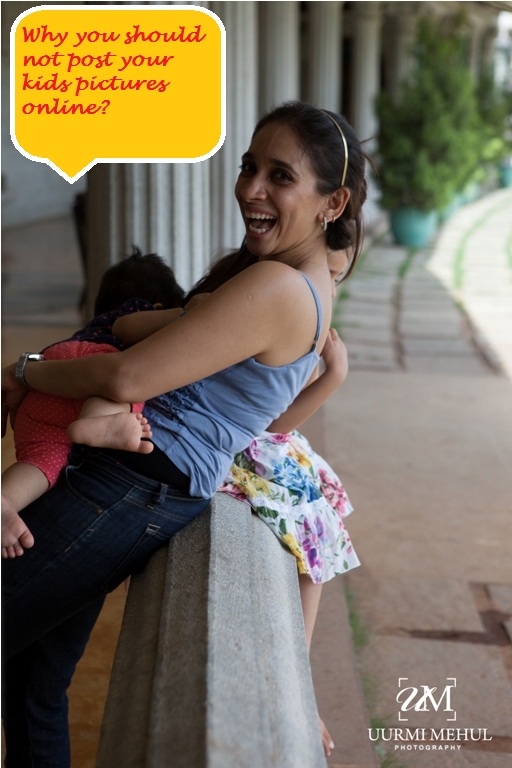 While the whole world is all about Facebook pictures, whats app updates and BBM pic, the husband & I never get tempted to post pictures of the kids online. If you belong to the online space you know that its all being tracked, watched, updated & analyzed by someone out there.
I think its possibly one topic that the husband & I unanimously agree on – Never post pictures of the kids online. When I started with Kidsstoppress there were many bloggers who shared their kids pictures on their blogs regularly and on their Facebook page too. Ofcourse kids pictures attract a lot of attention and more likes but I was never tempted. Not for a moment. They want their own space and while they love and respect what I do they should never be subjected to the shutterbugs that my work involves. I was never tempted to do contests/giveaways like a lot of baby shopping portals do on share your baby pics and win! And after reading all about the effects I am glad I stuck by a mommy's gut feel on things I would never encourage at Kidsstoppress.
If you are wondering what calls for this post on a Tuesday morning after a a long festive weekend then its a global story that you need to stay updated with. While I am not recommending severe measures like the one stated by Amy Webb in the Slate article there are a few things that are important for you to know and consider:
1. Last week, Facebook updated its privacy policy again. It reads in part: "We are able to suggest that your friend tag you in a picture by scanning and comparing your friend's pictures to information we've put together from your profile pictures and the other photos in which you've been tagged.â€_x009d_ Essentially, this means that with each photo uploaded by parents helps Facebook to merge the child's digital and real worlds. Algorithms will analyze the people around the child, the references made to them in posts, and over time will determine the child's most likely inner circle.
2. While India is predominantly about Blogs & Facebook. A lot of parents globally also share it on other mediums such as Youtube. You are just creating a larger case of excess information and depriving your child from anonymity.
3.  Here is what I absolute love on what Amy's done though I haven't done it yet and not sure if I intend to as there maybe a new Facebook and Instagram by the time she is matured enough to handle this kind of Social network: On the day of her birth, our daughter already had accounts at Facebook, Twitter, Instagram, and even Github. And to this day, we've never posted any content. All accounts are kept active but private. We also regularly scour the networks of our friends and family and remove any tags. Those who know us well understand and respect our "no posts about the kidâ€_x009d_ rule.
4. Your children don't particularly care for your status updates. They just love looking back at the pictures as memories and not your trophy value.
5. Just about everybody and anbody is on Facebook and you don't want them to looking at pictures of your kids in the bath or out of the pool.
How I share moments but not their identity:
1. Always share their backs or a hint of profile.
2. Crop their faces
3. Take an out of focus shot
Would love to know your views on sharing kids pictures on social media sites. Please do share it with us in the comments below or on Facebook here