At KSP Book Club, we often stress the importance of introducing your kids to books by Indian authors. We always suggest throwing in a mix of Indian names amidst their collection of Enid Blytons and JK Rowlings. And what is more important is to feed your kids with a steady mix of genres so they don't favour just one every time. Fiction and fantasy are great, but slowly introduce them to the world of non-fiction, simple stories with relatable characters, mythology, history etc.
On that pursuit, we have featured a collection of books under the newly launched Beaming Child series today on KSP Book Club and we tell you why this is a perfect fit for your busy 4-9-year-olds. Sign up to be a part of the KSP Book Club today, to receive book reccos and suggestions delivered to your inbox every week!
What's the book we are reviewing today?
On KSP Book Club, today we are speaking about the Beaming Child Series- a recent initiative by Charulatha C, a mom of 2 girls and a writer. In an aspirational bid to teach her young kids essential values like resilience, compassion, perseverance, empathy, curiosity- she started researching more about parenting, the different aspects and the need to raise empathetic and independent children. And as an offset of this thought, Beaming Child Series has come up with three children's books for kids of ages 4-9 years. Charulatha, an MBA grad is also a contributor at Kidsstoppress– read her work here.
About the books: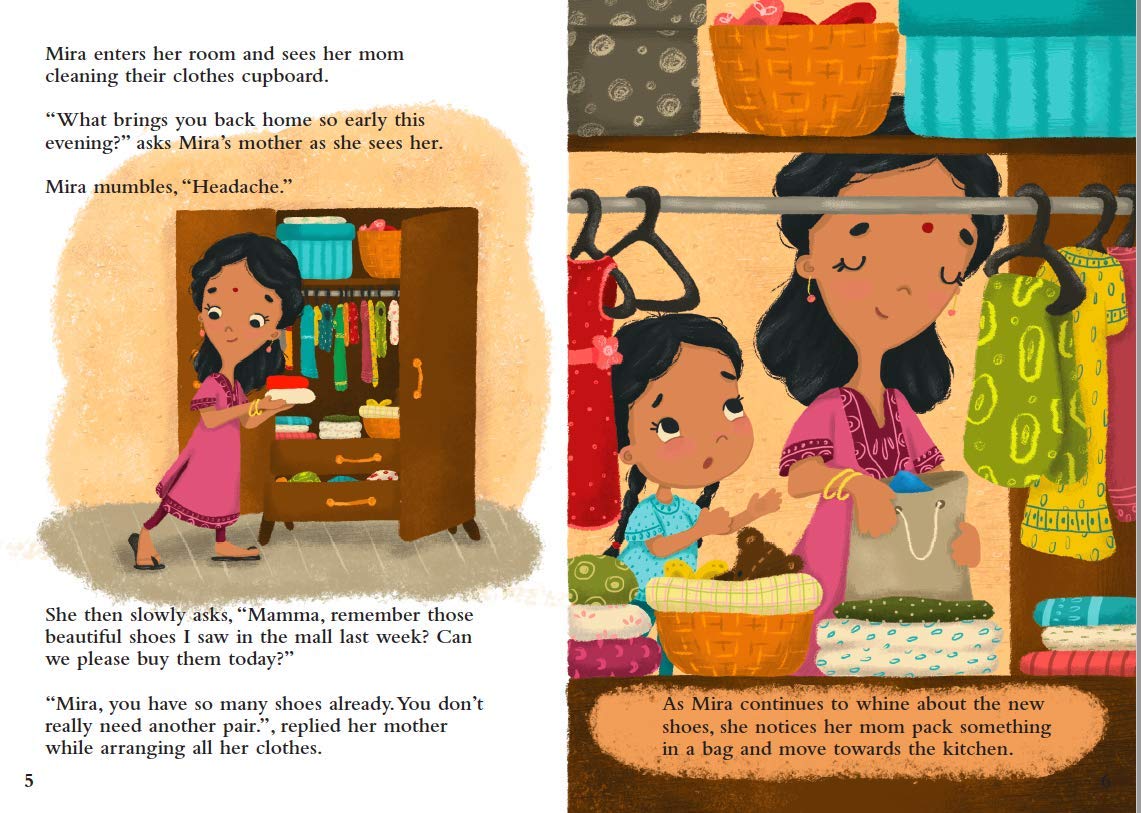 1) Mira and the New Shoes
Having a tough time teaching the kids "sharing is caring"? This story helps drive home a simple message, all about the joys of giving.
2) Avni and the Lost Puppy
Two kids- one is scared as hell of dogs and the other is an animal lover. How do they both find interesting things to do during their holidays form the crux of this simple story, with a message on kindness.
3) Diya and the Tournament
This one is a personal favourite. Teaches kids all about the competitive spirit, how to let go and celebrate other's joys.
The books are simple feel-good stories of young kids, their likes, dislikes, what they learn along the way and is set in contemporary India.
The characters for these books are based on Charulatha's daughters and she cites them as her biggest inspiration on this new journey.
The stories have a simple narrative style, circle around a plot and are relatable to today's kids.
What we are saying:
If you are looking for simple storybooks with characters that your kids can relate to- go for these. They teach them simple values, don't sound too preachy. And with the series concept, the characters are a constant in the three books making them easy to connect with for the kids. My 7-year-old describes the books as "fun and teaches all about friendship!"
And don't forget to subscribe to KSP Book Club to receive age-wise book recommendations and reading tips with kids.