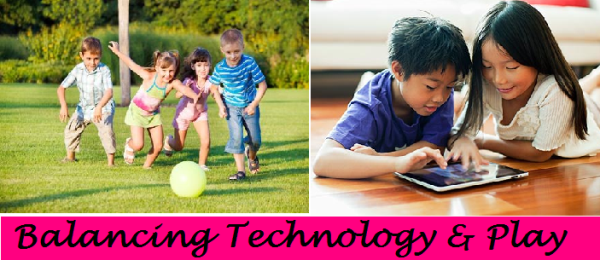 Parents often ask me how do you avoid the gadgets and ensure your kids have enough physical activity and here is my simple response. No expert speak but a moms first hand experience. Before we get into the how, you need to answer these simple questions:
Q 1. Do your kids go out and play everyday?
Q 2. Is it just ideal garden time or do they run around and sweat it out?
Q 3. Is the gadget they are seeking made desirable and not very accessible?
Q 4. Do you segregate time for your kids, gadgets, friends, work & home?
Now lets get straight into the mistakes we all make:
1. Don't segregate activity time.
2. Lead by example. We don't demarcate our time with kids, work, home, friends, technology
3. Do the juggling act: We read the paper while eating, answer our phones while reading, eating. answer our phones while its Family time. The kids are bound to do that Here is a classic example of what I mean
http://youtu.be/OINa46HeWg8
Here is my simple tried & tested solution, hope it works for you too. And as always parenting is learning on the job so would love to know how you do it too.( P.S. You are dealing with children and they are an unpredictable species All tricks don't work at all times 🙂
1. Technology is not bad. See how efficiently we can work with technology. Our kids are growing up in times when they will need this more than anything else
2. Make a Time Table and stick it in the most accessible place. Your kids should know what time are they suppose to do what. I don't mean to be a Hitler but when you have a planned schedule you seem to be a more organized person.
3. There is a time for everything: The daughter & I have segregated our time basis the things we love doing and those that are important. So we have reading time, garden time, phone time, mommy and daughter time, mommy and baby time, papa & daughter time, Family Time. This helps her know that she is important but there are others who need my attention too. It also helps us do a lot more activities that only doing one activity in a day.
4. Lead by Example: I always say this and here too this is so important where I make them feel important in the time I am with them. Experts say that children usually throw tantrums because they want attention. Give them that undivided attention. How you can do that don't carry your phone to the garden, its the biggest sinner. If its absolutely important to do so for coordination purpose then make sure you don't keep checking it and replying to a message while you are with them.
5. Give more than they expect: You know one of the most important lessons I learnt from Shahrukh Khan in my brief interaction with him on parenting was this. " Give them so much within your means that they never feel starved for anything" – Dont make technology a battle of 'I wont let you' or 'you cant have it'. Imagine if someone said that to you. – Give it to them when its time may be 15 mins in a day or 30 mins a day. Again mutually decide that and stick by it. – It should always be hey see I downloaded this new game for you or so how you can do this on the phone or hey a new show has started do you want to watch it. Or a pick a show and a game you would like to play today
6. Reward: Hey you were ready before time today so you get 5 mins more of reading time or tech time.
7. Pick and choose your battles: End of the day, when the kids are exhausted and may just go off to sleep and you need to get some stuff done then its okay to give in but make sure your are explicit about it being a one off. Don't fight every bit out with him/her. Parenting is tough but its not a struggle. Technology will be indispensable so don't fight it but embrace it with your kids in an organized manner. And like I said earlier kids are kids and unpredictable but if you work around the pointers it will help. We would love to know how you manage the balancing act with technology. Please do share your responses in the comments below or on our Facebook page here Facebook and Twitter here