This week we are back to bring you what's happening with our favourite celebrities in Bollywood and Hollywood.
Aishwarya Rai Bachchan's latest movie Jazbaa released this past week and if you have not had your fill of this leading lady then here's some more! This smiling picture of Aishwarya & Aaradhya will make your day! It is well known that Aaradhya accompanies her mom everywhere and it looks like they love being in each other's company. Aishwarya, Aaradhya fans, you might want to wallpaper this pic.
Image Source: www.filmymonkey.com
Look out! This too-young-to-drive cutie means business! SRK's youngest son took to the wheels with director Rohit Shetty and looks like this kid is one that is born to drive. Watch this video and you can even hear a tiny voice saying "Papa, I'm driving!"
https://instagram.com/p/8prRAwCLAT/?taken-by=shahrukh_khan_lover
Meanwhile in Hollywood,
Singer and reality show judge, Pharrell Williams was all smiles recently when he was greeted by one of the toughest crowds he had ever seen. Williams recently adapted one of his most popular songs, Happy into a children's book and is on a book release tour.
Williams used to addressing a group of journalists with questions was surprised to see a group of eager, plastic microphone-wielding British children, ready to ask very important questions.
Questions ranged from"My favourite thing in the word is chicken nuggets. What's yours?â€_x009d_ to "My Daddy always reads books on the toilet and my mum reads books on her bed. Would you read Happy on the toilet or the bed?â€_x009d_
Looks like Williams finally met his match!
Shop for the book here.Â
Like mother, like sons. Academy Award-winning actress Reese Witherspoon shared a sweet snapshot of her two beautiful boys – Deacon, nearly 12, and Tennessee, 3 – via Instagram. Dressed to the nines, the two boys look super dashing!
https://instagram.com/p/8tST2JChcB/?taken-by=reesewitherspoon
Newly single Ben Affleck was seen spending some quality time with his younger children. He walked hand in hand with daughter Seraphina, 6, and 3-year-old son Samuel – in Pacific Palisades, Calif. They caught the eye of a lot of passer bys as they sported adorable caps and visited the farmer's market.
Image Source:Â www.celebritybabyscoop.com
Coldplay frontman Chris Martin was seen indulging in a little father son bonding! Chris Martin was seen with his son Moses, 9, in Malibu, splashing around at the beach and generally having a jolly good time. Martin and his ex wife Gwyneth Paltrow co parent their children.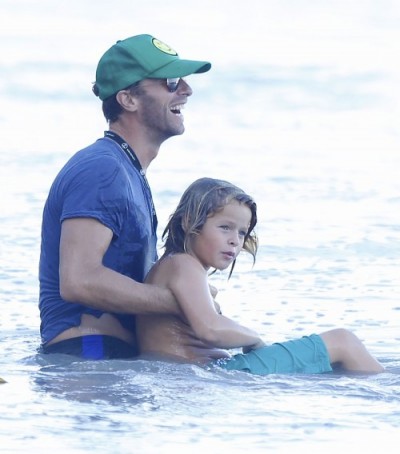 Image Source:Â www.celebritybabyscoop.com
Don't forget to follow us on Facebook, Twitter & Instagram or subscribe to our Youtube Channel for more information.