As the country gets set to welcome winter, parents in the national capital, like me, are worried. Winter no longer means heading outside for long walks and shopping, which one can't imagine in the summer. With the onset of winter, the pollution index hits alarming levels leaving everyone from the government to the citizens worried and clueless.
What causes Delhi's air pollution?
There is no single reason you can attribute to this situation. A confluence of various factors the lack of accountability among officials and ignorance among the citizens, have caused the problem to assume epic proportions today.
Firecrackers over Diwali
Crop burning in neighbouring states of Haryana and Punjab
Burning garbage at night for warmth by Delhi's urban poor
Toxic fumes from diesel engines
The main reasons for the thick smog and absolutely dismal visibility are the drop in wind speed and low temperatures which in turn prevents the dispersal of pollutants.
Air Quality Index:
The AQI or the Air Quality Index is now a familiar term for every Delhiite. To give you a picture of how bad the situation really is, here is what the value indicates: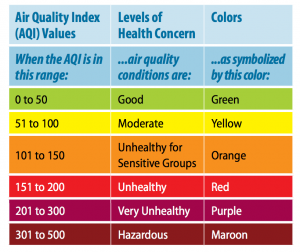 Image source: business insider
And as I write this article, the air quality is "Very Unhealthy (268)" and even goes up to 350/375 (Hazardous) in the night time. That is exactly the level of pollution this generation is living in.
What time works best and what doesn't?
6-8 am is by far the worst time of the day. This is also the time that all our kids are going to school standing at the bus stop, sitting in diesel buses and then lining up to get into their classes all mostly outdoors.
Noon-5:00pm is the best time of the day. Best time for the kids to be out playing.
The exposure at night from 9 pm to 9 am is about twice as bad as the day from 9 am to 9pm. So your kids are much more exposed at night in their beds, than in the school during the day.
There are significant variations in air quality day to day.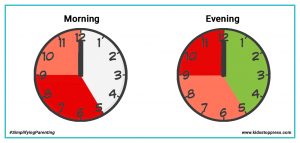 When is it safe for kids to step out?
Heading for playtime in the nearby park or a refreshing jog is no more a reality for Delhi parents. You need to be watchful about the time when you step out, especially with kids. You need to arm yourself against pollution by using the best quality air masks with the latest of filters. But even that does not guarantee a healthy outing, say experts.
"In Delhi, early mornings, late evenings or basically when the sun is not completely out are the worse times to be out. Children, the elderly and people with lung diseases should avoid being outdoors at these times and definitely not exercise"

Dr Neeraj Jain, Senior Consultant, Chest Medicine, Sir Ganga Ram Hospital, in an exclusive to NDTV.
In a recent letter to the education minister Manish Sisodia, Dr KK Agarwal of the Indian Medical Association has stated that "Children are more prone to harmful effects of air pollution as their lungs are still growing… Breathing polluted air can hamper the growth of their lungs leading to breathing problems later on in life…As the air quality in Delhi NCR has been recently of hazardous quality, with air quality index ranging from poor to very poor to severe category, we appeal to you to stop all outdoor activities and sports in schools keeping in view the harmful impact of air pollution on children and immediately issue an advisory in this regard to all schools"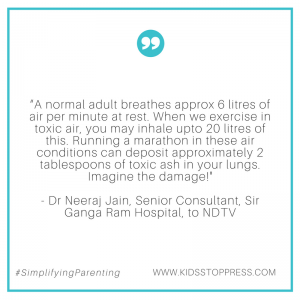 W
ith each day getting worse in the national capital, medical experts have issued a health advisory that is shocking, to say the least. According to the advisory
issued
on Wednesday, "while the city with a high volume of pollutants in the air is bad for exercise, running or participating in a marathon can add at least two spoonfuls of toxic ash to the lungsâ€_x009d_.
The advisory endorsed by experts from the Department of Respiratory Medicine and Chest Surgery of Sir Ganga Ram Hospital states that even N-95 standard masks, which stops fine particles, "could be suffocating while exercisingâ€_x009d_.
Staggering facts emerge from the study by Chittaranjan National Cancer Institute (CNCI), based in Kolkata done a couple of years ago. The respiratory health of children and youth in Delhi was much worse (twice or more) than the other children of similar age groups from across the nation. If this is not worrying, what is?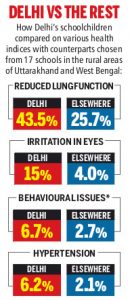 Image source: Indian Express
So, what should a Delhi parent now do?
There is no doubt that parents need to be very cautious about the environment and plan their children's outdoor activities as much as possible. Having spent this weekend, locked indoors, in fear of the pollution and the intermittent coughs, I know that it is easier said than done. But in the hope that the authorities, system and Government over the coming months (or years), here is how you can ensure your children suffer minimally from the pollution crisis.
Watch out for the AQI in your area before you decide to step out (even if it is in the afternoons). Early morning and late evenings are a sure NO, so make sure you don't end up planning any activity then. Most schools have shifted or suspended their morning outdoor activity in the wake of the pollution crisis.
Make sure you let in at times when the pollution levels are low so that kids are not just holed up inside the house all day.
Make sure you invest in a good quality air purifier. If you are looking at the list of best ones in the market- make sure you read this.
When your child (especially the little ones) need to step out for small durations, make sure you use a good quality air mask, that filters out the dreaded PM 2.5.
If you are using an air purifier, make sure the air inside the room, doesn't turn all dry at night. Check if your purifier has a humidifier mode. Else, just make sure you have a bucket/bowl of water in the corner of the room, to help kids escape the dryness in the air.
Get your kids into the regular habit of haldi doodh and other soothing drinks for kids to sail through the deadly combo of winter and pollution.
Best Foods That Help Fight Against Pollution
There are some foods that are recommended to help reverse the negative effects of air toxicity on our lungs. Including these in your meal plan can help protect your lungs. Read more in the article below.
Best Indoor Plants To Add To Your Home This Season
With pollution levels off the charts outside the house, what can you do to breathe easier inside your homes? These indoor plants are meant to help control the toxins indoors. See which ones you should be buying to help your family stay healthy!
Watch this video where KSP got in touch with Delhi moms to find out how difficult it is to survive the pollution battle with little kids.