Going to a garden or park with the kids in this sweltering heat is just such a task! So last week a bunch of mommies and I decided to try out Happy Planet – one of the indoor play areas in Mumbai.
Situated at Level 1 in Phoenix Market City , Kurla this is a perfect place for children aged 14 and below. Happy Planet offers different activities for kids across age groups. There is a huge play area which has giant slides, ball pits, tunnels, inflatables, cannon shooting, cargo nets and other soft play attractions. There is a completely different section for toddlers.The adventure zone has challenging activities like Walking the Rope, Wall Climbing and Bumper cars for kids over 7 years. All of these activities are designed to boost confidence and independent learning in children. Read more here.
But here is what we loved the most at Happy Planet : The Sand Play pit – a whole section dedicated to inspire sensory play in kids. Playing with sand encourages kids to explore their imagination along with improving their sense of touch and this section of Happy Planet does exactly that.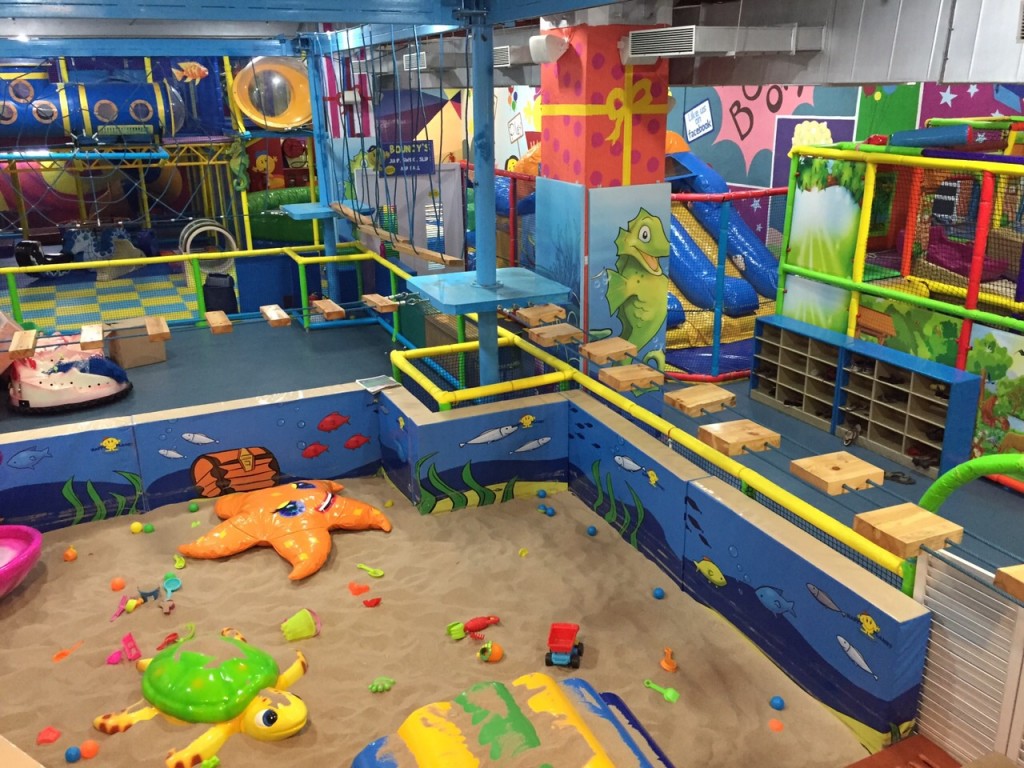 With colorful pictures of marine life painted all over the surrounding walls and lifelike models of sea turtle and other sea creatures thrown in , it must really feel like the underwater world to a 2 year old. We loved the giant pink sea shell & the yellow-green striped underwater bridge.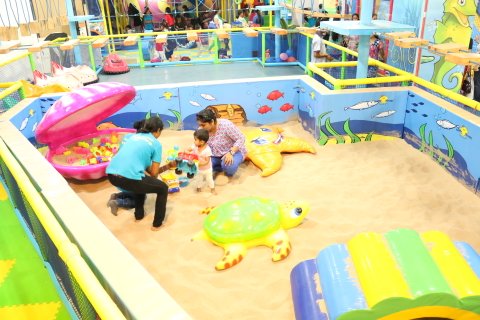 We found lots of child- friendly tools hidden in the sand like shovels and rakes for digging, pouring sand, all tools to help improve gross mortar skills in children. The big toy truck was the most sought after toy.
The best thing about playing in sand is that you don't have to follow any instructions. So once the kids were done with the sand toys, we spent the rest of time by just playing with the sand like sprinkling sand on our legs, making sand castles, building a long road for the toy tuck , drawing shapes in the sand, hiding the toys in the sand & finding them again, or simply watching the sand as it went down the sieve.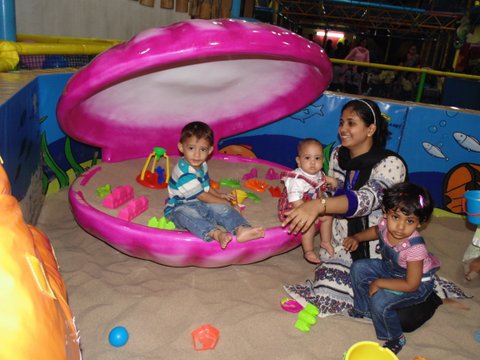 Unlike the other sections of Happy Planet, the sand area does not have any roofing , which gives a sense of being in an open place , from here you can also watch the older kids doing the Arial adventure/Wall climbing in the adventure zone . Needless to say , the sand area kept us joyfully busy for almost an hour an evening well spent with the kids!
This section can easily accommodate 10 to 12 kids on a weekday, there are 2 female attendants as well to watch over the kids all the time, so if your kids are of the right age drop your kids here and take a quick shopping break .
Details
Location: Level 1, Phoenix MarketCity Mall , L.B.S Marg, Kurla (W)
Timings: 11 am to 9:30 pm ( with clsoing time extending till 10:30 pm on weekends)
Charges: Each zone is priced differently. Package options aso available. For making a payment ,you need to purchase the Happy Planet Card which costs Rs 100 from the reception on which your cash is loaded , preserve this card to avoid spending Rs.100 on your next visit.
Carry a pair of socks for your child & yourself as wearing socks is mandatory in all sections.
Website: HappyPlanet
Facebook: HappyPlanet