The one thing that is topmost on everyone's mind is to boost and maintain our immunity levels.
Common signs of infection related to the Coronavirus include respiratory symptoms, fever, cough, shortness of breath and breathing difficulties. The best way to deal with it besides using the tips recommended to stay safe is to keep your family's immunity levels up and prevent the infection from attacking.
As parents, we are worried about our kids. Every time we read an article we have been calling our doctors and we are ready to do what it takes to keep them safe. With the season changing, everyone seems to be handing a cold and cough and that in today's times is scary. The moment you have a cold or cough, your body's defences are lowered and that could be dangerous – for everyone.
While we are taking all precautions and educating the kids about what they should or shouldn't be doing when they step out of their homes, ensuring that they are eating right and loading up on immunity-building food is important. 
If you are a parent who wants to make sure their kids at healthy then you need the KSP Meal Plans in your kitty. With everything planned for you you won't be tempted to order out as much and since you don't need to do the thinking, you know that when you shop as per our grocery list it's all there in your fridge.

Sign up for the KSP MEAL PLANS today! (We also have a ONE WEEK meal plan if you want to see what you're signing up for)
So how are you going to build your child's body defences?
This means we need to make sure we're eating all of our body's requirements for macronutrients, vitamins and minerals. The key to using our diet as a tool to make sure we're fighting fit is to ensure we eat as many different types of nutrients and minerals as possible. Let's use the food wisdom of our grandparents and start building our family's immunity naturally.
Sonth Ke Laddu
Sonth ki goli is the perfect dadima ka nuska to fight cold and cough. Made with gur (jaggery), sonth (ginger powder) and ghee, this home remedy helps boost immunity.
Amla Juice – Immunity Builder Juice
Amla juice or Indian Gooseberry is a powerhouse of Vitamin C and exactly what my Nani would give us when we got a case of the sniffles. Amla Juice is the perfect home remedy to fight cold and cough and boost immunity.
Haldi Doodh
The main ingredient is turmeric which is a potent anti-inflammatory and antioxidant that boasts a wide variety of amazing health benefits. Our grandmother's solution for almost any ailment. This liquid gold is traditionally made with cow's milk, oil, spices, and turmeric.
Aliv Ladoo
Aliv or Halim or Garden Cress seeds as they are known in English is a superfood and are loaded with many health benefits and nutritional qualities.
Ajwain Leaves
This ajwain plant is a life saver as far as I am concerned. Today I'm sharing 5 ways you can use these powerful leaves in your daily lives. Reap the benefits of things lying in your homes and kitchen. nothing too fancy and exotic. Give your immunity & health a boost naturally!
Amla Immunity Builder Juice
Moringa Soup
Moringa Leaves Soup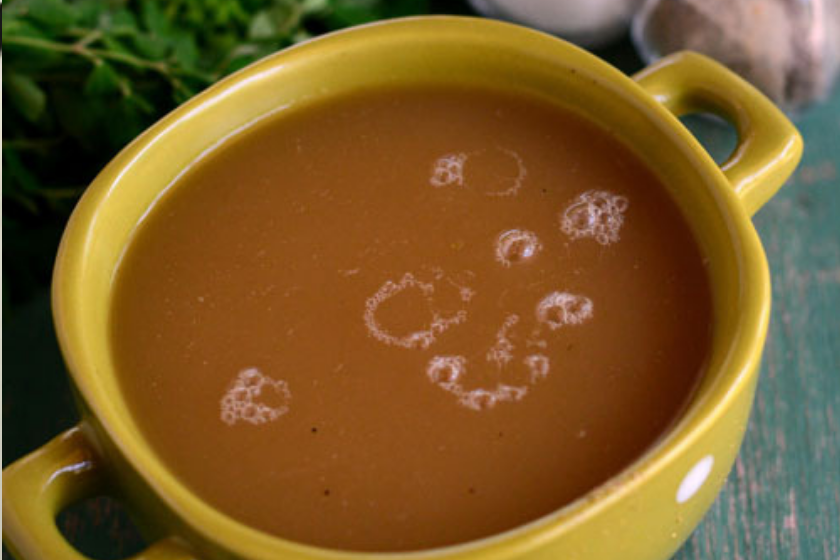 Image Source:https://www.padhuskitchen.com
Ingredients
1 Cup Moringa leaves
2 Tsp- Moong Dal
2 Cloves Garlic finely chopped
1 Small Tomato chopped
2 Tbsp Onions finely chopped
2-3 Tsp Boiled Rice
2-3 Peppercorns
1 Tsp Cumin Seeds
1 Tsp Salt.
2 Cups Water
1 Tsp Oil
Method
In a pressure cooker, heat the oil and add the cumin seeds. Once they start spluttering add the peppercorn and garlic.
Add the onions and sauté for 2 minutes
Mix in the tomatoes and cook.
Put in the dal, moringa leaves and boiled rice with 1 or 2 cups of water.
Pressure cook for 2-3 whistles.
Once the pressure is released, mash this mixture with the help of a spoon.
Strain the liquid out and your moringa leaves soup is ready.
Note: You can add more spices depending on your family's taste – you can add some lemon juice and red chilli powder for more flavour. The above recipe is perfect for a baby as well.
Besides boosting your health, there are also hygiene levels that need to be maintained. We cannot stress the importance of this enough. Making sure you don't fall ill due to poor hygiene habits is very important. Watch the video to know more.